Print this post.


---
There comes a time in the life of every 68-year-old when marching in protest starts feeling a lot like an act of futility.  Not that my legs are worn out, nor am I even tired.  In pre-varicose vein days, these legs marched often, protesting the Vietnam Holocaust, and were arguably effective in helping put a temporary end to Southeast Asian mayhem.  That was the last time, in my lifetime, that publicly protesting the crimes of Empire was in any way successful…and with reason.  They say that in a bacon and eggs breakfast, the chicken is involved, but the pig is committed.  During The Vietnam War, young men like me played the part of the pig.  Thanks to The Selective Service and The Draft Lottery, our own sorry asses were on the line.  We were all likely to become cannon fodder, rice paddy fertilizer, bacon.  Certainly there was a large dose of altruism and genuine empathy in the hearts of the marchers, but in the end, the greatest factor in the success of the anti-war movement of the late 60's and early 70's was self-preservation.  Pure selfishness.  We had an overdose of enthusiasm and determination on our side.  We were committed.  "Hell no, we won't go!" echoed throughout the land, and draft cards burned while Nixon cowered in The White House.
Much more recently, there have been less enthusiastic, somewhat limp protest events in the streets of Empire.  In 2003, our Jackson Hole group, protesting the upcoming Iraq War, was herded into a remote churchyard where we wouldn't bother anyone.  I painted the obligatory signs and marched with mostly Mexican immigrants against the racist Senate Bill 1070 in Phoenix, and again with the Occupy Phoenix folks.  There were several anti-Monsanto marches in Kahului, Maui, an anti-Trump event in Santa Fe, and lastly, several "Stand With Standing Rock" protests.  Unlike the good old anti-war marches, these more modern events were all done with the proper permits, lots of police presence, rules, and regulations.  No walking in the streets, don't stop on the sidewalks, cross only at crosswalks, no megaphones, have your messes cleaned up and be off the streets by 5 p.m.  Armed Police State goons nearly outnumbered participants, who generally acted like they were taking Sunday strolls.  Pet dogs, babies in strollers, pregnant women, and of course, a cellphone in the palm of every hand.  Missing in action:  Enthusiasm, determination, and the commitment of a pig about to become a vital part of a bacon and egg breakfast.  It seems that, for now at least, protest marches are like trees falling in a forest that nobody hears.  A once good idea, but no longer able to perform their function.
Over the last two years, my own angst over the state of world affairs, and more specifically concerning the march of fascism in the Belly of the Beast, has found outlets in several websites which have seen fit to publish my rambling, scathing diatribes.  Each year, each day, each minute, the precarious position of mankind seems to hang more dangerously in the balance.  Empire is a runaway train, being driven by crazed madmen, drunk on wealth and power, harvesting earth's resources with reckless abandon, threatening our future with an arsenal of weapons, conceived, built for, and capable of vaporizing all life on earth.  Democracy now a cruel joke, hijacked by our overlords, elections merely choices between either of two corporate whores, war-monger zombies, earth-rapists, myopic opportunists.  Each year, each day, each minute, the hopes of mankind diminish.  Protest marches laughable and ineffective.  Elections:  Really?  Only a handful of people even aware that there's a problem.  The vast majority drunk and distracted by M.S.M. so-called News, professional gladiator games featuring a plethora of balls, boots, gloves, helmets, blood, and concussions.  Hollywood blather, and the ever-present handfuls of Samsung/Apple electronics, luring all attention into their delicious web of games, gossip, and delirium.
Writing about, and being able to share my concerns about the imminent dangers of unbridled militarism and capitalism has been a tonic for my soul, but leaves me with dark, disturbing doubts about whether I'm effecting even the slightest change.  With the possible exception of an occasional C.I.A. troll, my audience already shares my concerns.  I now belong to a mutual admiration society, with members scattered all over the planet.  The newest member of my personal writer/pen-pal group of friends is John Rachel, a U.S. ex-pat who now lives in rural Japan.  Mr. Rachel has long shared my concerns about the evils of Empire, and has written a book outlining a plan to effect change.  That plan, and the name of his book is:
The Peace Dividend
The Most Controversial Proposal in the History of the World
Before addressing the details of the plan, let's all take a quick multiple choice test.  Pencils ready and go:
You live in the most powerful Empire the world has ever known.  Its government is a cruel joke.  A corporate/banking political duopoly dominates all public offices, with virtually all its elected officials nothing more than Wall Street lapdogs and cheerleaders for militarism.  War for profit, coup d'etat, color revolution, and assassination its modus operandi.  The people at the top will stop at nothing in order to gain complete control of earth's resources, including the use of a vast nuclear arsenal.  If their bombs don't kill us all, their abuse of Mother Earth and resulting climate change will.  These monsters must be stopped, and it's up to you.  How do you proceed?  Do you:
A.  Buy a copy of Che Guevara's book "Guerrilla Warfare", accumulate an arsenal of automatic rifles, explosives, and handguns, train a large group of ragtag rebels in the backwoods of Kentucky, march on Washington, D.C., pull off a coup d'etat, and imprison all those who survive your wrath?
B.  Embark on a social media mission of Public Education.  Enlist the help of high-profile leftist intellectuals to show Donald Trump's basket of deplorables and the minions of delusional Democrats the errors of their ways.  Present an impressive array of alternative candidates for public office, who will end war, hunger, and poverty, save the environment, and make the world a better place for all?
C.  Through social media, inform all U.S. Citizens that, in order to fund its war machine and police state, their government has been picking their pockets, and that if they vote for certain designated candidates, every man, woman, and child will receive a refund check in the amount of nearly $15,000?
Everybody ready?  Pencils down!  Now to grade your tests.  If you chose A, you're obviously suicidal, and I'd strongly suggest more conventional methods such as drug overdose or firing up the Toyota in a closed garage.  If you chose B, you're delusional, and must have the American public, at large, mixed up with a group that has a clue or gives a shit.  If you chose C, you're an astute judge of character, and an expert on exactly what motivates and excites people to action in a capitalist society.  Plan C is the obvious best, and maybe only viable answer.
John Rachel's Peace Dividend idea is all about changing the system from within.  Breaking the stranglehold of the Two-Party System and the Mainstream Media which maintains it.  Replacing all corporate congressional whores with a cadre of leftist, populist, anti-war outsiders, all of whom will have eagerly signed The Peace Dividend Candidate Contract.  Incumbent Congressmen and Senators who refuse to sign on will be voted out of office, and replaced by Peace Dividend Candidates.  See contract below:
---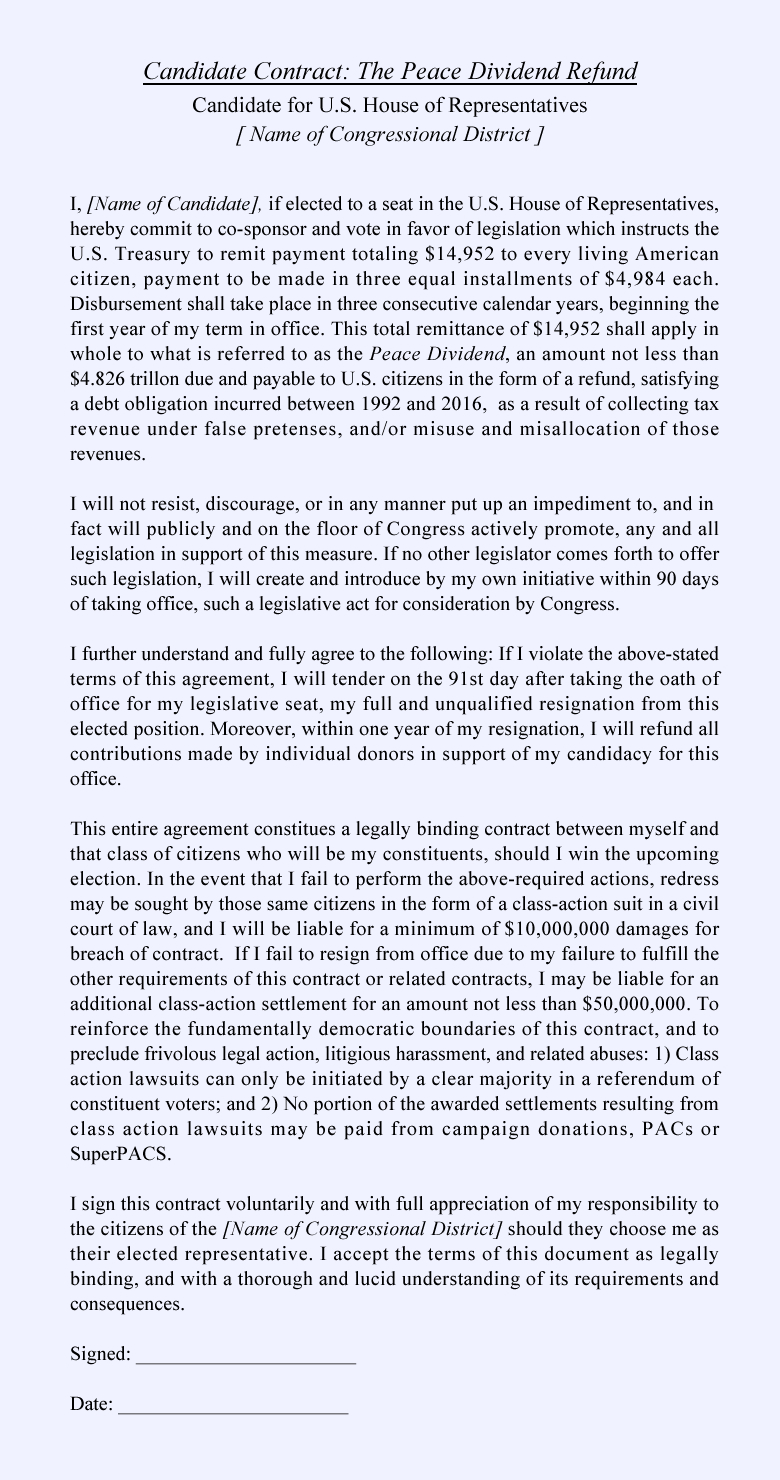 ---
Now if you've stayed with me thus far, passed the test, read the Candidate Contract, and haven't written John Rachel or me off as being certifiably insane, you're probably asking yourself:  Where do these windmill-tilters think they're going to come up with nearly five trillion dollars, which will be necessary to pay the tab for this unlikely and controversial proposal?  The answer is simple.  To paraphrase the man in The White House…we'll drain the swamp.  Cut the fluff, end the wars, castrate and defang Empire.  GIANT cuts to The Pentagon Budget.  Defund all current wars.  Hack to pieces the budgets of the C.I.A., N.S.A., and The Homeland Security Agency.  Eliminate tax loopholes for the wealthy and end corporate welfare.  Raise taxes on the wealthy and the corporations they control.  Place taxes on publicly-traded stocks.  And issue Peace Dollars & Peace Bonds.  A couple trillion bucks per year, at the drop of a hat.
Every time I ponder the viability of The Peace Dividend, I hear music playing in my head.  Okay, so maybe I am certifiably insane, but sometimes it takes crazy people to change the world.  That music is a 1989 release by Lou Reed, titled "There is no time".  Not sure what was going on in 1989 to inspire the lyrics, but it could have been written yesterday.  Lou believed that:
"This is no time for circumlocution.  This is no time for learned speech.
This is a time to gather force and take dead aim and attack."
On the breakfast table of our current world situation, boys and girls, we're all the pig, and our bacon is on the line.  This is the time to gather force and take dead aim and attack.  John Rachel has a viable plan.  If you have a better one, time's a wastin', so spit it out.  If not, let's give The Peace Dividend a chance.  If you agree, run it by your local Congressman, and see what he/she thinks of it.  If they don't sign on, maybe they should retire and pass the baton to you.  As Patrice at The Greanville Post would remind us:  "The idiot, the ignorant, & the indifferent outnumber us 100 to 1.  What are you doing to improve the odds?"
---
About the Author
JOHN R. HALL, Senior Contributing Editor
John R. Hall is a street-trained agnotologist with an advanced degree in American Ignorance. Other hats include: photojournalist, novelist, restaurateur, mountaineer, grocer, nurseryman, and janitor. He's written three novels which have been read by almost nobody: 'Embracing Darwin', 'Last Dance in Lubberland', and 'Atlas fumbled'. An untrained writer and college drop-out, he began his short career in journalism writing the 'Excursion' column for The Jackson Hole News & Guide. More recently he penned the 'Left Column' for The Molokai Island Times; appropriately on the island once known as a leper colony. John currently resides, writes, and protests injustice in the shadow of the Sangre de Cristo Mountains, and walks among the spirits of those who once occupied the 79 Disappeared Pueblos. Read more John Halls's articles. 
---
Appendix
---
---
By John Rachel
Buy at Amazon and other bookstores. 
$7.99 kindle / 12.99 paperback
---
What will it take to bring America to live according to its own self image?
---